Rose Bloom, 360ml (12oz)
Regular price
Sale price
£30.00
Unit price
per
Sale
Sold out
Queen's award
3 design awards
100% leakproof
Insulated steel
BPA free
Dishwasher safe
Description

☕ Experience a supreme hot drinking experience with Ion8's Travel Mug, your ultimate leak-proof companion. Triple lock mechanism ensures no spills, granting peace of mind even when tossed into a bag.

🥤 Enjoy a spill-free transit with a wide brim, shaped and curved for comfort. The smooth, reliable liquid flow enhances flavours, making sipping a delightful experience while preventing unwanted spills

🛡️ Prioritise your health with our hygienic design. The cover keeps the brim free from contamination, opening a full 240° to stay out of the way during use

🏃‍♂️ Perfect for on-the-go individuals, the mug features a lid that flips all the way back, so you can see ahead safely while you drink, and a convenient carry handle that clips out of the way into the cover. The hooked lid profile prevents falls, making it easy to grab your bottle from a bag

🧽 Cleaning is a breeze with our easy-to-clean, dishwasher-friendly design. No small parts or crevices to worry about. Plus, it's made from endlessly recyclable stainless steel, sporting a durable, solvent-free Blackberry powder paint
Delivery & returns

DELIVERY

Orders over £40: FREE Royal Mail Tracked 48® Delivery or upgrade to Royal Mail Tracked 24® for £2.99

Orders under £40: Royal Mail Tracked 48® Delivery for £4.99 or upgrade to Royal Mail Tracked 24® for £6.99

RETURNS

Our policy on returns is simple. Love our products, or send them back.

We offer a 30-day trial for all of our products, which means you have 30 days to try it out, live with it, and love it.
View full details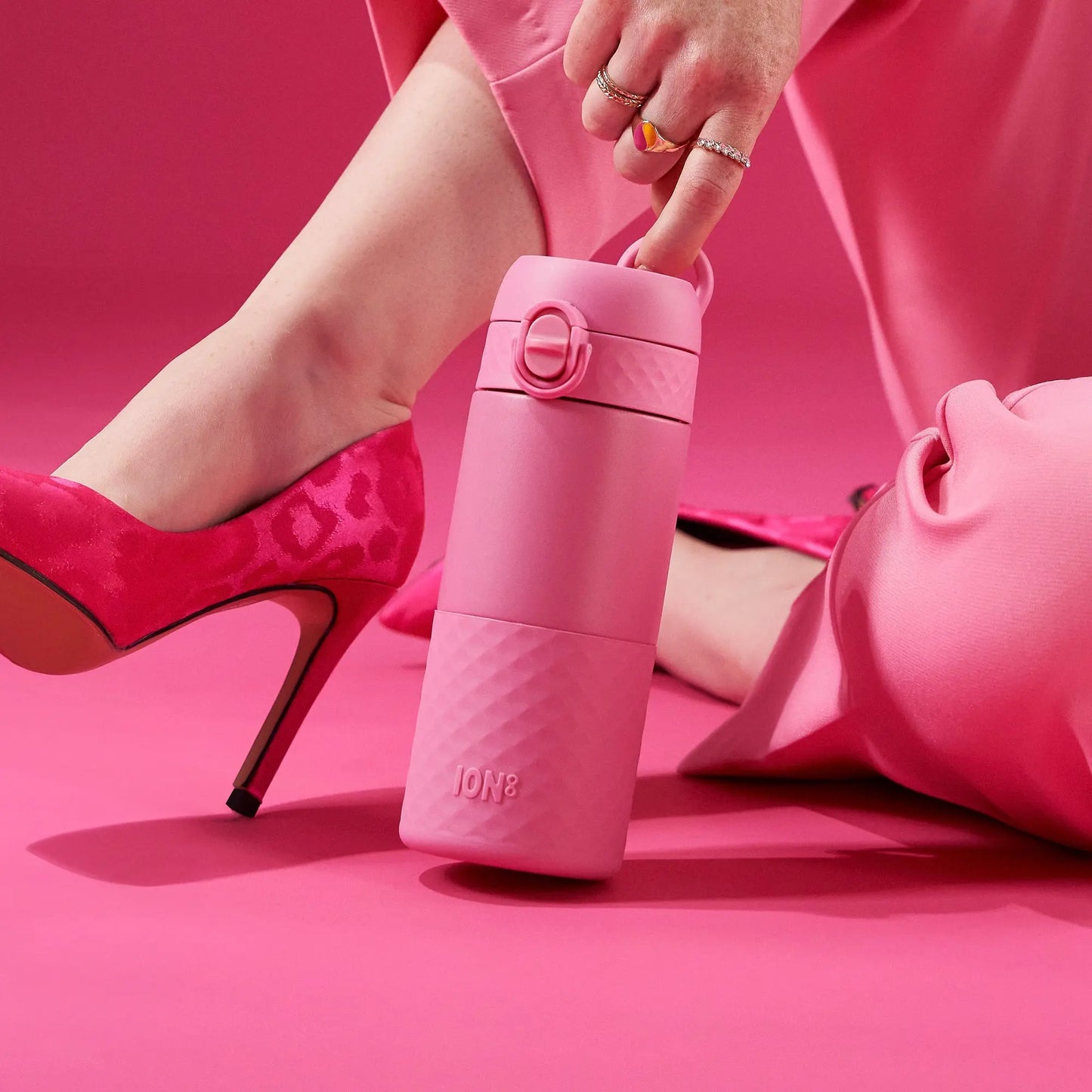 Over 8,000,000
bottles sold
Good price, good product!
I like the cup very much! With 360 ml, it is not so large of the capacity, but definitely sufficient for a warm or cold coffee. I like it quite well. With its rubber covers you can easily grab and hold the cup. My drinks are kept cold and warm for a long time; Regardless of the outside temperature. With an additional small clip you can clip the cup on a carabiner if necessary. With its rubberization in the lid, the cup is leak -proof, which has not yet been refuted by me. - or keep cold. 5 stars from me!
Excellent bottle, but it didn't convince me 100%
Although the price of the bottle is not exactly low, I particularly appreciated 3 aspects:- the thermal seal of the bottle guaranteed by the double room with the internal walls in stainless steel and which keeps the heat very well and even more the cold as promised 'Aesthetic with attention to and captivating- the closing system that guarantees any loss and is very safe thanks to the ring of material ritegnoi are good, but the bottle is a little heavy and cumbersome in relation to the internal volume. Wash it is a little annoying because the body of the bottle and cap are made up of several parts. To the touch the materials are very pleasant as well as the details and the aesthetics. Positive, but not apical performance.
Comfortable and large travel cup
ION8 presents this thermal cup with a minimalist design and with a capacity of 360 ml, ideal for frequent travel or movements such as work or school. liquid inside is not altered as a flavor and smell, it has good ergonomics and can be drunk comfortably while walking. The opening is facilitated and the steel material is also resistant to shocks or falls, the price is around € 30 And it is average, finally it can also be washed in the dishwasher easily.
What to say ... magnificent.
The Ion8 thermal bottle is an exceptional product that meets both environmental needs and users of users attentive to quality. This bottle is produced by Ion8, a company with the ClimatePartner certification which actively engages in the reduction of carbon emissions and in the responsible use of materials. With a capacity of 360 ml, this thermal bottle is perfect for those who want to keep their drinks hot or cold at ideal temperature for a long time. Thanks to the perfect isolation, it is able to maintain hot or cold drinks for 10 or 12 hours, making it ideal for anyone in motion. The pink water coloring of the bottle adds a touch of elegance and style, while the triple stop cap offers comfort and safety. The possibility of opening the cap with a single hand is a particularly appreciable feature for those on travel or practice sports. This design not only facilitates the opening, but also protects from involuntary openings, what is essential to avoid unwanted spills. The bottle is also washable in the dishwasher, which significantly simplifies daily maintenance. It further improves its grip, making it easier to handle during daily or sporting activities, this bottle is truly complete. Even if the price of 28.62 euros may seem at the beginning a little high, when you find it use justified by both constructive quality and excellent technical characteristics; This is so certainly a good investment and that it is worth considering for those who want a reliable, sustainable and captivating design bottle. In the definitive, the ION8 thermal bottle is an intelligent choice for those looking for an ideal partner to maintain drinks at the right temperature in every situation.
Great quality
This is a really nice travel mug, it's compact enough to fit in a bag easily, but holds enough liquid for a good cuppa. So far it hasn't leaked. You can clock the lid shut with a little clip, and it also has a handle to carry it, I did find the handle a bit hard to open at first, but now that I've used it a bit it's gotten easier to open.Very good quality, keeps my coffee hot for hours, and doesn't leak. Good value travel mug, and I really like the green colour.
Great little thermal cup/bottle. Super isolation, good size, fair price
The bottle has exactly the right size for a tea, coffee, punch or anything else. It can be drinked very comfortably from the lid. The flap can be folded far enough so that the nose does not collide with it. The lower part of the bottle is a kind of silicone cup. This can be easily removed and put back on for cleaning. It gives the mug slip resistance and is more pleasant than metal from the feel. The lid can be closed with a bar so that it does not accidentally go on the go. Then the bottle is also leakage -proof. 360 ml fit and the price of EUR 24.99 is more than appropriate for the quality.
Looks good , hope it lasts
Looks good so far. Not too heavy and base is sturdy. I just hope that the handle won't break as it seems fragile
Good travel cup
It is a thermal bottle that actually resembles much more to a cup as it has a rather limited capacity of capacity. It is excellent for preserving both cold and hot drinks for a long period, which makes it perfect to bring it with it. Personally, I really appreciated the simple and well -kept design in every detail, it has an excellent lock system that prevents drinks from escaping. Other, but at the same time it turns out to be slightly annoying especially if the bottle is left in the sun this layer of rubber tends to become sticky. In the definitive I think it is a good product.
As usual very good quality from Ion8
In the course of the Vine program, I was allowed to test the ION8 travel mug. Because we already have two larger bottles of Ion8 in the household and we are absolutely satisfied with them, I was looking forward to the travel mug for the coffee to go. How usual is the processing Very good, although everything is made of plastic except for the container (stainless steel), but it is stable and it does not feel cheap. Although the mug is three times secured, it can still be operated with one hand. The fact that the lower quarter of the cup is coated with a rubber, which can be removed, for example, for the wash cycle in the dishwasher (the mug is a flushing machine festival). The bottle lies great in the hand and it can be drinked from it well due to the well -shaped run. The cup easily keeps coffee hot for a few hours, I haven't tested cold drinks yet. As I said, the workmanship is great, the mug is well in the hand, one -handed operation and the cup looks very chic. At the price of 22.22 I can't complain about the euro, I would definitely buy the cup. Many Grüßholgi many
Ortima travel cup
Excellent travel cup, or rather, an excellent thermos to bring with you and put the coffee inside (or other hot). The design is really cool, done well and very modern color! It is totally hermetic, even a drop does not come out on the bag too! Really top! Easy to wash and clean!